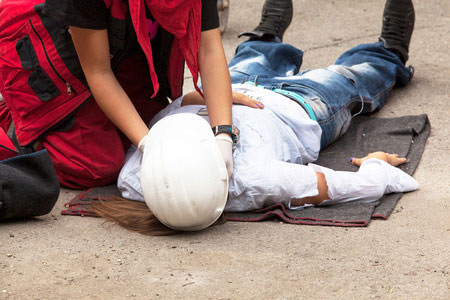 This is a comprehensive 3 day Pre-Hospital Emergency Care Council (PHECC) accredited course which covers all the essential aspects of first aid for the workplace or emergency situation occurring in everyday life.
On completion of this 3-day course, the First Aid Responder will be equipped with the necessary practical skills, knowledge and confidence to give effective life support, diagnose and treat injuries or illness, and maintain care and comfort of a patient who has become suddenly ill or injured in the workplace or elsewhere until the arrival of emergency medical services. Also included is training in the use of an Automated External Defibrillator (AED) and the administration of aspirin for cases of a suspected heart attack.
The First Aid Response course covers all of the occupational first-aid requirements for places of work as outlined by the Health and Safety Authority. Under the Safety, Health and Welfare at Work (General Application) Regulations 2007, there is a requirement on employers, based on a risk assessment, to have a sufficient number of adequately trained first-aiders in the workplace. The specific requirements for first aid provision at work depends on several factors including the size of the workplace, the numbers employed, the hazards arising, dispersal of employees and access to medical services.
Participants are awarded with an Pre-Hospital Emergency Care Council (PHECC) certificate, which is valid for two years.
We also offer the First Aid Responder (FAR) Refresher course.
Course Duration
3 days – Can be completed on consecutive days or over a number of weeks.
Course Content/Topics Covered
Patient Assessment
Incident Procedures
Cardiac First Response (CPR & AED, Choking & Stroke)
Common Medical Emergencies (Asthma, Diabetes, Seizures, Poisoning & Fainting)
Injury Management & Shock (Bleeding, Bone Injuries, Sprains, Strains & Dislocations, Shock)
Care of the Unconscious Patient
Burns & Electrical Injury Care
Hypothermia & Hyperthermia
Information Management & Communications
The Well-Being of the First-Aid Responder
| | |
| --- | --- |
| Duration: | 3 Days |
| Certificate: | Pre-Hospital Emergency Care Council (PHECC) Certificate to each participant |
| Certificate Valid For: | 2 years |
| Course Cost: | €250 per person – Refresher €150 per person |
| Course Times: | 9:30 am – 4:30 pm |
| Group Discounts | Contact us for a quote for both in-house & on-site training |
| | |
 Training Provided Nationwide – We look forward to hearing from you to discuss your training needs.
First Aid Response (FAR) – 3 Day Course
Cost: €250
First Aid Response (FAR) REFRESHER – 2 Day Course
Cost: €150