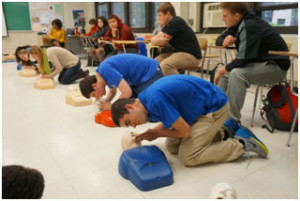 Accidents happen. This is a well-known fact. It is how you deal with them that makes the difference.First aid can save lives and prevent minor injuries becoming major ones.
This First Aid Course for Schools is for anyone with an interest in First Aid and willing to assist in case of an emergency or accident. It is recommended for teachers & students wishing to gain knowledge of Basic First Aid and CPR/AED Training. It covers the main life threatening conditions you could be faced with during the normal course of your life.
This course may be of particular interest to Transition Year Students in Secondary Schools.The course aims to give the pupil the confidence to react appropriately at the scene of an accident and teaches them how to activate the Emergency services.  The same applies to the teaching and support staff.
This First Aid course can be tailored to meet the needs of the particular school being trained.
We provide in-house training nationwide. We will call to your school to deliver this tailored Schools First Aid Course at a time that is convenient to your staff.
This course is specifically designed for the needs of your group, please contact us for more information and a costing.
 Course Content/Topics Covered
Cardiac First Response
Automated External Defibrillator – AED
Airway Obstruction Adult, Child and Infant
Fractures / Sprains & Strains
Wounds & Bleeding
Burns and Scalds
Recovery position
Asthma
Allergic reactions
Epilepsy
Please contact us to discuss your needs.
Contact Request Form for First Aid for Schools